Radio Advertising in Montana
Looking to buy radio ads in Montana? Radio remains an efficient, effective and affordable way to make your voice heard. Whether you're looking to reach new customers or reconnect with existing ones—or you want to promote a special event—do it on FM 99 The Mountain and get your message out there!
Radio Advertising
Need to get the word out about your business to new customers? Promoting a local event? In a world where people are bombarded by advertisements from all angles, radio remains a successful way to connect with your target audience. At FM 99 The Mountain, we offer affordable advertising, whether you're in the market for a one-off ad or a full, ongoing campaign.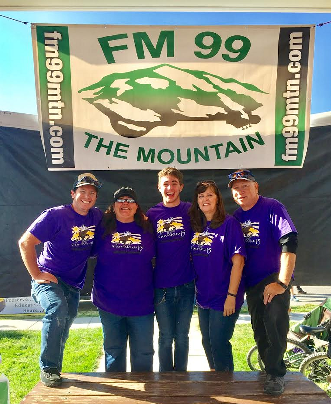 Why Advertise With Us?
Reach.
We have a tremendous reach, with over 175,000 potential listeners, not including online listeners. Our streaming capabilities have even opened us up to a worldwide audience. In a typical month, more people listen to the radio than use websites and apps dedicated to online search or e-commerce. Radio advertising remains an incredibly effective way to get your message out to the Montana community.
Selective targeting.
Radio messages can be completely tailored to your target audience. Target your message to specific demographics, psychographics, current events or even select particular times of day to ensure you're reaching a precise audience at precisely the right time.
Affordable.
No matter what type of campaign you're running, whether you're building awareness or looking to make a sale, radio ads are cost-effective. Radio production is less expensive and much faster to produce than typical lead times for print or TV commercials. Couple that with frequency and reach, and you can see why radio continues to be a top choice for advertising.
Let Radio Advertising Help You Grow
FM 99 The Mountain offers affordable, effective radio advertising in the Montana region. Get your message across to the people who need to hear it the most by working with our marketing team. Call 406-446-1199 today to learn more!